This is approximately my 5th Annual Top 10 Films of the Year List, and this, the 2010 Edition, was easily the most difficult so far. 2010 was a tale of two years. The first half of the year was unbearably AWFUL. The second half was EXCELLENT! From January through June I had almost no motivation to get to the theater because everything looked so bad. But the second half of the year has been so crowded with great movies that putting together this Top 10 became incredibly difficult. When it's all said and done I think 2010 will go down as a great year in film history. Let's take a look at the list.
1.
Brest Fort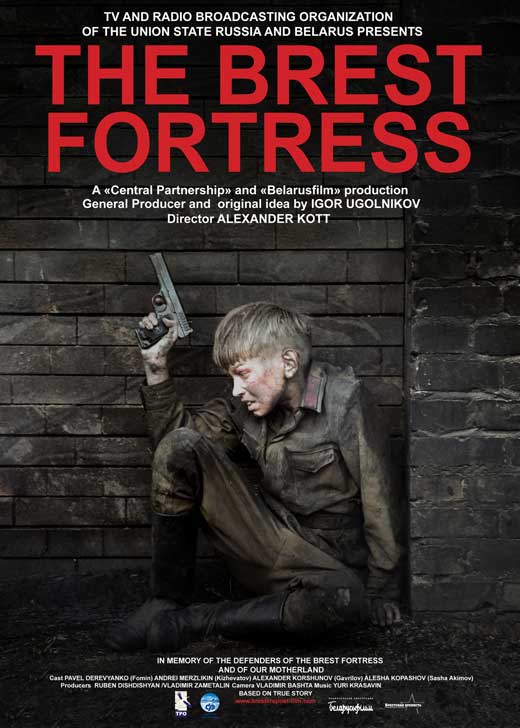 ress [Brestskaya krepost]
– This Russian film hasn't seen the light of day in America, and most of the world for that matter (I had to watch it on Youtube). It's the tale of the beginning of the conflict between the Soviets and Nazi Germany during WWII, and it's an absolute masterpiece. Life is going well in the Fortress, but everyone knows war is coming soon. They just don't know how severe the impact will be and the price they will have to pay. Soldiers and their families fight to defend their ground in the face of certain death. It's at once inspiring and shattering. The acting is authentic, and the cinematography is top notch, capturing both beauty and utter devastation. The action is unrelenting, but character is never forgotten. After I saw Black Swan I didn't think there was any way it could be knocked off the top spot… but then Brest Fortress came along. (If you're interested in watching this film, the only way I know how right now is to click this link.
http://www.youtube.com/watch?v=JJCUNZbQvjY
)
2.
Black Swan
– This is exactly the type of film that is all too rare in today's Hollyw
o
od. Black Swan is bold; a true artistic statement, yet it doesn't fail to entertain. This film proves you can break the mold, take dark, edgy subject matter, and still produce a hit. Sadly, Hollywood these days tends to chalk up the success of this type of movie as an anomaly, and then continues to churn out remakes, reboots, sequels, and formula driven comedies. Black Swan is nothing of the sort. It's the story of a ballet dancer played by Natalie Portman who lands the lead in her company's production of Swan Lake. It's a stressful role, demanding perfection in two different styles of dance, and she must go beyond her natural limits to live up to expectations. It's beautifully shot, acted perfectly, and the tension mounts with every passing moment. It'll also make you afraid of mirrors for the rest of your life.
3.
The So
cial Network
– By now we've all become hooked on Facebook, the social networking website that allows you to "connect" with "friends" virtually. This is the story of how (and why) it was created, as well as the subsequent lawsuits that came as a result of its massive success. Much like Black Swan, it takes a subject that very easily could have been done by the numbers; boring and mundane. But it wasn't. It used a fractured narrative, cross cutting between the linear story of Facebook's evolution as told from the perspective the two lawsuits. Trent Reznor of Nine Inch Nails did the original score, and the result is an undertone which adds a sinister depth of meaning to every frame. If you think this is just "some movie about a website" you've got another thing coming. It's a near perfect tale of trying to earn respect, but going about it in all the wrong ways.
4.
Harry Potter and the Deathly Hallows (Part 1)
– Th
e seventh installment of the massively successful Harry Potter franchise is one of the best yet. Personally, I'll always love The Prisoner of Azkaban the most, but Deathly Hallows Part 1 is perhaps the most "real film" of the series. By that I mean that it takes itself the most seriously, presenting the story not as if it's part of a children's fantasy series, but rather as if it's any other drama. Sure, there's magic, but it's presented in such a way that it's just an assumed part of the story. The film makers assume we're caught up and don't bother trying to wow us with overt magical spectacle. Instead they focus on story and character, and let the action unfold naturally.
5.
The Am
erican
– This film hit #1 in its first week, but not very many people liked it. Why? Deceptive marketing. The trailers made The American look like an action spy thriller. In actuality, it was nothing of the sort. It was a slow character study. Not much dialogue. Emphasis on non-verbal storytelling. Long, still shots. When you're expecting a non-stop thrill ride and instead you get a "boring" art film, most people will be disappointed. I, however, was pleasantly surprised. This film is so much more than we were led to believe. It's beautiful, and by the end you can cut the tension with a knife. I hope that in time the reputation of this great film comes to reflect its true nature, rather than the one people were hoping for.
6.
Biutiful
– This is a sprawling film. It's a Spanish film, the
story of a man dying from cancer, trying to set his complicated affairs in order before he runs out of time. He also has the gift of being able to communicate with the recently deceased, and this ability plays an interesting role in the story. Biutiful gives an interesting glimpse into the Spanish underworld of human trafficking, and also of lower class family life. It's a very difficult film to do justice with a blurb. All I can say is that it's one of those films that it worth watching even though it's heavy and challenging.
7.
Winter
's Bone
– This is the story of a teenage girl who is running her household after the disappearance of her father. She's going to school and trying to feed her siblings at the same time. It turns out her father is due in court and he's put up the family home as collateral. If he doesn't show up for his hearing they'll lose the house, so she has to go find him. In the process she uncovers an underground drug network and faces increasing danger while she tries to save the family. Like The American, it's a film that takes its time with each shot, never rushing to get through the story. We have to peal the onion at the same pace as the protagonist.
8.
127 Hours
– Quite frankly, this is a film that just shouldn't w
ork. It's the true story of Aron Ralston, a young outdoorsman who gets his arm stuck under a boulder while backpacking through a canyon in Utah. The vast majority of the film is Aron pinned under the rock, talking to himself and trying to survive as long as possible. But through clever use of flashbacks and voice over it's a thrilling tale of the power of the human spirit.
9.
The T
own
– Ben Affleck's second film as a director proves that his solid debut, Gone Baby Gone, was no fluke. It's the story of a crew of bank robbers in Boston. They hit a bank and take a hostage as cover during their escape. After they let her go they have to make sure she can't identify them, so Affleck's character tales her, approaches her, and eventually starts a relationship with her. In the meantime, the FBI is busy trying to take down the crew while the local crime boss is pressuring them to take even more daring scores. Of the many films over the years that have compared themselves to the masterpiece Heat, this is the first one that can legitimately do so.
10.
Remember Me
– Of all the films I've seen from this year, no
ne had the emotional impact on me that Remember Me did. Objectively speaking, it probably doesn't really deserve to be on the list, but I'm giving it extra points for making me feel something. It's a, throwback. It reminds me of films of another era, like A Streetcar Named Desire or Rebel Without a Cause. There's something raw and dangerous about this film. Robert Pattinson, known most for the Twilight films, seems like the second coming of James Dean and Marlon Brando all rolled up together in this movie. It's the story of a young man trying to make his way through life on his own terms, frequently in trouble, until he meets the girl of his dreams. Trust me, it's a lot less corny than it sounds, and the ending will leave you shaken to the core.
Special Men
tion.
Catfish
– This is a documentary, and I've never known how to rate documentaries against traditional films, so I just don't. But you should make an effort to see Catfish. The Social Network may be known as "The Facebook Movie" but Catfish is actually the real deal, defining this generation in ways that the former doesn't. It's scary because it's real. It's almost impossible to talk about the specifics of the film without spoiling it, so just do yourself a favor and rent it from your local Red Box.
The rest of the films I've seen from 2010, ranked & rated...
11. Inception - 9/10
12. Greenberg
13. Edge of Darkness
14. Blue Valentine
15. The Fighter
16. Green Zone
17. The Kids Are All Right – 8/10
18. The King's Speech
19. Toy Story 3
20. Shutter Island
21. Kick-Ass
22. True Grit
23. Scott Pilgrim vs. The World
24. Robin Hood – 7/10
25. Unstoppable
26. Clash of the Titans
27. Despicable Me
28. The Book of Eli
29. Alice in Wonderland – 6/10
30. Date Night
31. Leap Year
32. The Other Guys
33. Valentine's Day – 5/10
There are actually quite a few films that I wanted to see that I haven't been able to get to yet. However, I always try to put my Top 10 list out around Oscar time, so I had to go with what I've seen so far. Here's a list of films from 2010 that I still need to see. Once I get to these I might do an updated version of the list.
How to Train Your Dragon, Flight [Udaan], Mission London, Another Year, Rabbit Hole, Tron: Legacy, Secretariat; LSD: Love, Sex, and Deceit; Never Let Me Go, Wall Street: Money Never Sleeps, The Ghost Writer, Buried, Easy A, I'm Still Here, Cemetary Junction, Four Lions, Somewhere, I Saw the Devil, Incendies